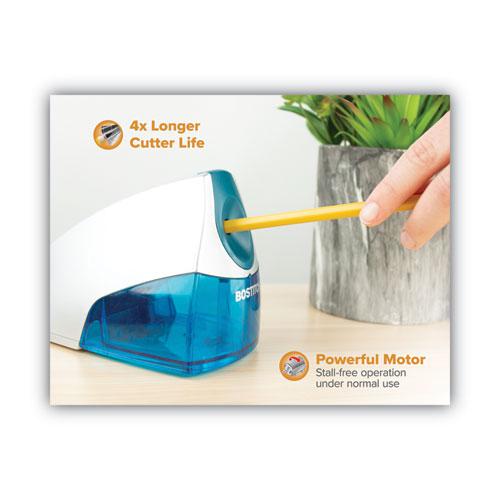 Stanley-Bostitch Personal Electric Pencil Sharpener
BOSTITCH (STANLEY BOSTITCH) part EPS4BLUE
Product ID 03563EPS4BLUE
$47.27*
*Final pricing and availability will be determined upon request for quote. Volume discounts and other price adjustments may apply.
Description
Stanley-Bostitch Personal Electric Pencil Sharpener - Desktop - 1 Hole(s) - Helical - 4.3" Height x 4" Width - Blue, Silver - 1 Each
More details
Created with the home office and office workers in mind, the Personal Electric Pencil Sharpener features a space-saving design that fits perfectly on any desktop or work space and looks great with its modern twist. This sharpener may be small, but it has a powerful motor you can rely on to operate stall-free. High-capacity, easy-clean, transparent shavings tray will eliminate your frequent trips to the waste basket. Keeping your safety in mind, the shavings tray has the added benefit of safely preventing operation when the tray is removed. Expect precision and cleanly sharpened pencils with the automatic HHC Cutter Technology that extends cutter life by four times.