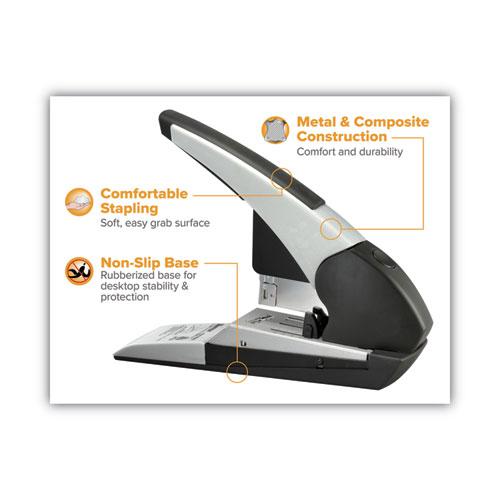 Bostitch Auto180 Xtreme Duty Automatic Stapler
BOSTITCH (STANLEY BOSTITCH) part B380HDBLK
Product ID 03563B380HDBLK
$181.68*
*Final pricing and availability will be determined upon request for quote. Volume discounts and other price adjustments may apply.
Description
Bostitch Auto180 Xtreme Duty Automatic Stapler - 180 Sheets Capacity - 1 Each - Silver, Black
More details
Auto 180 Xtreme Duty Automatic Stapler offers the convenience of one staple size for all jobs - big and small. Stapler is constructed of metal and composite materials for ultimate durability and lasting reliable performance. No-Jam technology delivers smooth, jam-free operation while flat-clinch stapling reduces stack sizes by stapling flat. For smaller jobs, an efficient mechanism trims excess staple leg during stapling for a neat, professional appearance in a snap. The ergonomic handle's soft grip provides comfortable handling. Adjustable paper-stop delivers consistent staple placement. Rubber base pad provides desktop protection and stability during large jobs. Great for work, the home office or school, this stapler fastens 2 to 180 sheets with SB38 Series Premium Xtreme Duty Staples. It includes 800 SB38HD Xtreme Duty staples for immediate use.